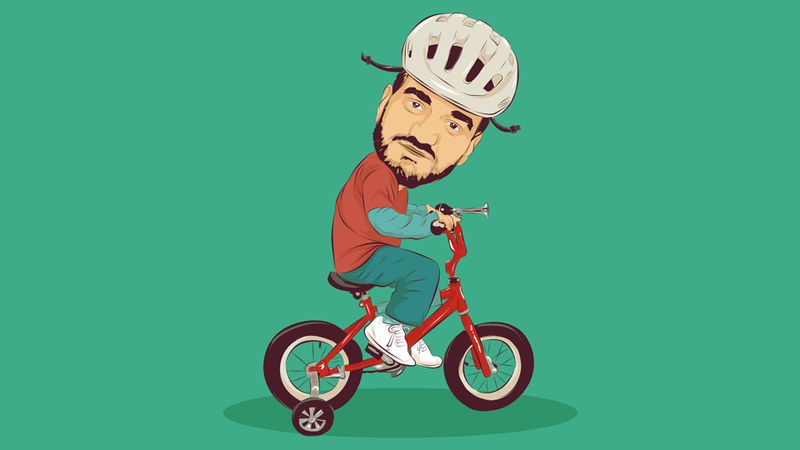 The Anna Karenina principle of biking is this: Everyone who learned how to ride a bicycle did so in roughly the same boring way; anyone who made it to adulthood without learning required a unique series of roadblocks, failures, negligence, and procrastination. If you fall into the latter group, congratulations! Your inability to do something most children have mastered makes a great conversation-starter. But your tale of finally having tamed the wild, geared stallion will make an even better one.
There's no sexy trauma in my past that kept me from learning: no 10-speed mowing down my parents in front of my eyes, no bike-mounted bullies menacing me for my lunch money. It just never happened for me. I grew up in an apartment with a lack of storage space in a bike-unfriendly neighborhood in a bike-unfriendly city, so tottering on training wheels down my block wasn't an option. My parents knew how to ride, but rarely did, and they either never got around to teaching me or gave up on me when I was too young to remember. In college, where my deficiency made me an object of curiosity, attempts by friends to teach me were made under less-than-ideal conditions, i.e. while we were all very drunk. Those attempts went poorly. By the time I reached my mid-twenties, I just kind of assumed that if it hadn't happened, it wasn't going to.
Even when I turned 31 earlier this year, I couldn't ride a bike with any level of confidence, couldn't stay on that bastard for more than a few feet without wobbling, with visions of veering into oncoming traffic flashing before my eyes. "Killed Trying to Learn to Bicycle," the headlines would read, "Like a Pathetic Incompetent Baby." I was ashamed of my inadequacy, but you shouldn't be. It's just a non-vital skill that most people have learned but others haven't. Just because the minority is a particularly small one doesn't make it a failure of character.
But it's worth learning. For one, it's really fun. If you learned to ride decades ago maybe you've forgotten how it first felt, but it's an incredible sensation to race through the park or down a busy road, the air whooshing in your face and the world flying by. You are free to go wherever you want and capable of getting there without having to resort to shutting yourself off from the world in a car or train. You feel excellent in body and mind; it is a workout, and it is a joy.
For another—and this is an actual, semi-serious justification I have used on myself—what if you're being chased by an ax murderer with good foot speed, and you come across a bike? Do you or do you not want to be able to get away from the ax murderer?
Here's the secret to learning to ride a bike: Just keep trying it, you'll get it soon.
Wait, don't leave! I know that sounds like terrible, useless advice, but it's the only advice that matters. I ignored everyone who gave it to me during my failed attempts, but they were 100 percent correct, the know-it-alls. No one can tell you how to ride, because it's a muscle-memory thing and an experience thing. You really do just have to get on a bike, screw up for a while, and you will, incredibly, start to screw up less. It's not magic, even though it'll feel like it.
But there are ways to give yourself the greatest chance of getting it. First: Find a bike. When I made the tentative decision to do this, I obviously didn't own a bike, and didn't have space to keep one. So I researched where I could rent them by the hour. And really, an hour here and an hour there is all you need. The very first time I rented a bike, out on Governor's Island in New York harbor, I felt myself starting to figure out my balance in about 45 minutes. Yes, that meant 45 minutes of clumsy, halting, 10-foot rides, and endlessly bashing my shins on the pedals, but that was a small price to pay for tangible proof that I was capable of getting better at this.
And here's the extra-great part: When I got on a bike again a couple months later out in Flushing Meadows (another hourly rental), I picked up almost exactly where I had left off. Your brain will remember everything from the first session, and from every subsequent session! You don't have to do any work; your muscle memory is better than you think. By the second hour, I was doing something that you wouldn't be laughed out of the room for identifying as, technically, a man riding a bicycle:
Find a good place to bike. If I had simply bought a bike and tried to roll out into traffic, I would have either died or been so scarred by the experience that I would never have tried it again. Biking in the city is a whole different thing. Instead, I went to secluded areas: parks, mainly, but also parking lots or near-deserted side streets in the outer boroughs. It meant no traffic to worry about, but it also meant no witnesses and no judgment. Not that passersby would have actually been judging the grown-ass man who clearly didn't know how to ride a bike, but my own fear of that would have been crippling enough to keep me from focusing on the task at hand.
Depending on your preference, an adult bike-riding class will cover both the wheels and the location. Here in New York, they're offered by a nonprofit partnered with the city; wherever you are, there's sure to be at least a private offering. I haven't done one myself, but taking a class with a group of supportive people in the same boat as me would have been the safest space imaginable.