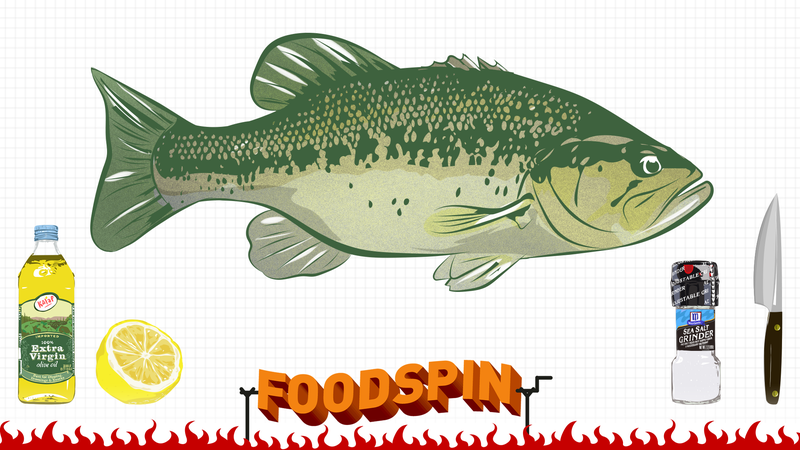 It's easy to fall into a summertime pattern of eating tacos and kabobs and barbecue on a three-day rotation, because those are delicious things to eat and they are best eaten in summer. Broadly speaking, this is doing summer right. Enjoy your tacos! Enjoy your kabobs! Enjoy your barbecue, so long as someone else is minding the smoky fire for hours on end while you play whiffle ball and pound shandies!

I submit, though, that the familiar delightfulness of these summer staples is keeping you from experiencing other, far greater summer delicacies. You should take a 24-hour break from cramming your face full of various grilled meats and consider something like, say, crudo. Because variety is good, yes, but also, and more importantly, because crudo is miraculously delicious and good to eat, and is summery as a mofo, and you may even come away from this experience with a new hobby. A summertime hobby!
The reason for this is simple enough: crudo is an Italian word that means "raw," and, for today's purposes, refers to raw fish, and, like all great and/or palatable raw fish preparations, requires a level of freshness one does not generally associate with fish bought from the grocery store. And so! In order to have crudo that rises above meh—and hopefully well above oh shit I'm gonna be sick—you might decide now is a good time to take up fishing! And, hey, it's summer, now is a good time to take up fishing. And, since being good at fishing is at least 50 percent moderating one's consumption of cold beer, even you can pull it off, when you are not on one of your legendary benders.
Before you start freaking out about tackle boxes and tensile strength and shit, know this: strictly speaking, you will not need to take up fishing in order to make delicious crudo. It would be cool and fun and rewarding, but you will absolutely be able to make delicious crudo anyway. Which, by the way, is what we are going to do. Let's get to it.
Here's what you're gonna need: some good, fresh fish; a sharp knife; some good olive oil; some good sea salt; something acidic. And some ice. That's really it.
In basic terms, what we're doing is slicing up some good fish, dressing it, and eating it. And, hey, if, in the breezy spirit of summer, you simply do that—buy some fish, cut it into hunks, put it on a plate, dress it with olive oil, salt, and lemon juice, then cram it into your face—you will have successfully eaten food, and it will probably sustain you. But! It will not be especially delicious. Crucially, it will also not justify the thousands of words of this internet food column, and that is just unacceptable.
Crudo has in common with sashimi at least one important detail (thankfully, this detail is not world-class knife skills): its deliciousness is directly and profoundly determined by its freshness. The range here can be genuinely disorienting—a piece of fish that would be fine for baking might make for a sashimi experience that is close to horrifying. We've probably all done the thing where we ordered hamachi at the neighborhood sushi joint, and it came out looking a little wan but not alarmingly so, and you put it in your mouth, and, oh God, what the fuck, get this out of my face immediately. And the thing is, the fish was probably fine! A little salt, a little seasoning, a little heat, a soft tortilla, some shredded cabbage and a blob of guacamole, and voila, you've got yourself a totally passable fish taco. In fact, I'm not convinced fish tacos weren't initially just a thing to do with fish that might otherwise summon the gorge if it was, say, steamed or shocked or, God help us, served raw.
Fish and seafood have this funny reputation, relative to other animal proteins, where the very idea of eating less-than-fresh seafood is terrifying, and we're encouraged to be extra vigilant about the freshness of fish and seafood. Probably this has to do with some persistent low-level anxiety about the unknown horrors of the murky deep, and the possibility that some truly alien super-amoeba is hiding in the past-ripe flesh of the just-this-side-of-repulsive sea creature you're about to consume. A bite of the wrong piece of seafood, and friggin' Cthulhu will come rocketing out of your butt mere hours later, leaving you completely dead on the commode. Tough break!
But, nah, the real concern, here, is that, like fresh tomatoes, fresh fish is different enough from and better enough than thawed or preserved fish that it's almost like eating a completely different thing. The opposite of the Neighborhood Sushi Joint Disaster is the Destination Sushi Spot Epiphany, where a piece of perfectly fresh, top-quality hamachi blows your hair back like the guy in the old Maxell commercial. Crudo is the same way—super-fresh crudo is a real goddamn treat, and you will remember it for a long time.
But how to get our hands on fish that is fresh enough that you would feel good just slicing off a hunk and eating it? Well, hmmm. You've got a couple options, here: you can catch some fish; you can order some fish; you can get real friendly with a fishmonger; you can find a local fresh seafood market, wake up in the wee hours, hie yourself down to this local fresh seafood market at the crack of dawn, and elbow your way through restaurant buyers in order to get your hands on the very best stuff, before it is all gone and the rubes are left to buy the dregs.
Acquiring your fish:
The best, most fun, most summery option to getting some fish for your crudo is gonna be catching your own stuff. You don't have to be goddamn Ernest Hemingway fishing the Irati to make this happen—our boy Samuel Wadhams has the how-to for every step of the process, from gearing up to finding a spot, on down to killing the poor damn fish. Fishing is delightful, we are now in the heart of summer, and crudo that you make from fish you just now yanked out of a body of water will be the most delicious seafood you will ever eat. Of course, fishing is also a whole big production, and the best fish for this preparation will come from the ocean, and personally killing a living thing is very much not for everyone. My wife is comfortable with it and will gut a recently murdered fish with great glee, but I am a mortal lock to cry actual tears every time a fish is killed in front of me. This may not be your bag, is what I'm saying.