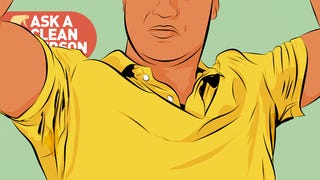 My guest this week on the official Ask a Clean Person podcast is Deadspin's own Greg Howard, who joined me to talk about how our editor in chief, Tim Marchman, is so deeply wrong about air conditioning. We also talked about pit stains! Okay, fine, we mostly talked about pit stains, but damn if it wasn't satisfying to publicly mock our boss for his terribly bad opinions.
Pit stains are a topic I've covered in great detail in my columns, as well as in Laundry School. Should you want more detail than we went into in the podcast, those are the places to head. In addition to those terrible yellow stains and the stubborn deodorant buildup that so commonly afflicts just about all of us, Greg and I took on two reader questions about lingering pit-y smells in freshly washed clothes, and what you can do to fix that for a smell- and stain-free summer.
So sit back, pour a cold beverage, and enjoy some air conditioning while you listen to the dulcet tones of your beloved Deadspin writers. You can do that here, or over at iTunes, where you can also subscribe.