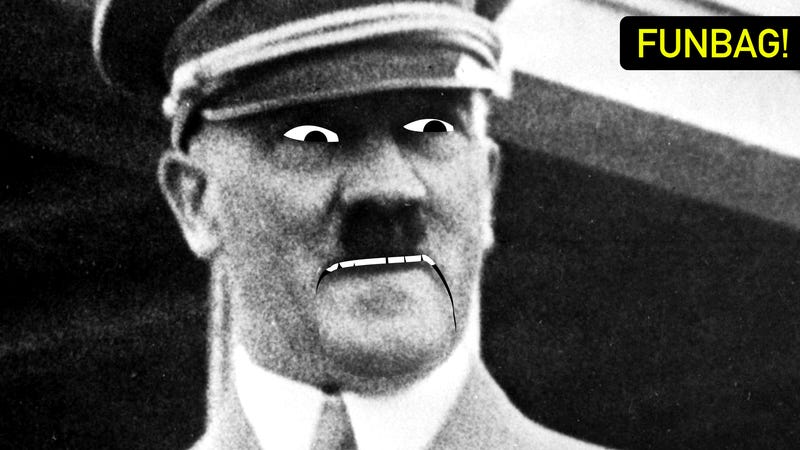 Time for your weekly edition of the Deadspin Funbag. Got something on your mind? Email the Funbag. Today, we're covering adulthood, white chocolate, gum, sex, and more.

Your letters:
Paul:
Do you think Hitler ever ate a taco?
No. Hitler lived well before the globalization of food, and a cursory Google search indicates that he probably never visited any countries outside of Europe. Maybe if he had been compelled to make some diplomatic trip to Mexico, he would have been confronted with a taco at a fancy state dinner. And then the host would say, "Señor Hitler, we have prepared a traditional Mexican favorite for you." And then Hitler would be like, "Ja ja, das gut!" and try to look like he's honored to be served a taco, but failing because he's Hitler and he always looks super pissed about everything.
But we have no record of such a dinner ever occurring. It's possible that Hitler never even HEARD of tacos. Not once. Think about it: When would it come up? It's not like he was surrounded by foodies. Goebbels never interrupted his war planning to be like, "You know, I found this AMAZING hole in the wall where we can grab a bite to eat after wiping out Poland."
Hitler was, at heart, a dumbfuck redneck. Like any other limp nationalist, he was both incurious and disdainful of anything from outside of his home country (which wasn't even his home country, but I digress). Germany was perfect to him and everything else was unnecessary, which means he spent his whole life eating nothing but red cabbage and veal testicle sausage, and scoffing at any other form of sustenance. I bet the very idea of a taco would offend him. I bet it would anger him and send him into spasms of enraged hair-flopping. I bet if he were alive today, he'd be one of those assholes who's like, "Sushi? You mean raw fish? EW!" People like that are all Aryan nationalists at heart. I don't trust them.
By the way, one historian traced the history of tacos here in the U.S. all the way back to 1905. Man, I bet a taco in 1905 would taste fucking unreal. I'd be so obnoxious about getting in on the taco bandwagon before the rest of my steel magnate chums.
Alex:
What do you think Trump's Twitter password is? He can't be smart enough for two-stage authentication and all that right? Do you think he even knows it?
I think assistants handle that. If his session expires and he has to re-enter his password, he just hands the phone to Kellyanne or whoever and orders them to enter it. (If I worked for Trump, I would put all my passive-aggressive energy into making that password; something like TURNIPBUTT2016.) Trump is the kind of guy who likes to commandeer all the fun tasks for himself and leave the busywork to lackeys. I can't blame him, really. I would totally do the same thing if I were a filthy rich conman who got away with everything. Anyway, that means he alone is in charge of composing tweets, holding rallies, opening up golf courses, pissing on hookers, and brainstorming cool new war ideas. Everything else is a mess left for others to clean up.
That's why his Twitter has never been hacked. If he had ever bothered with setting up his own account info, the password would have been TRUMP and he would have been hacked ages ago. Or maybe he WAS hacked ages ago, and his feed has been run by some genius troll for the past 10 years, and he just had to roll with it because admitting he got hacked would be too embarrassing. Tell me it isn't possible. Anything is possible in the truthering sector right now.
Tim:
What do you think is the restaurant (in the broadest sense of the word) where diners make the least eye contact with other patrons? I'm thinking Subway, because as soon as you walk in you know that every other person within arm's reach places a $4 lunchtime saving above any sense of taste, personal health, or even residual Jared guilt.
I think Subway is a good choice because most people eating there are on lunch break, and are therefore alone, and are therefore fixated ON lunch, and not on actual human interaction. When I'm in line at Subway, or Chipotle, or Cava, or any other joint where they assemble your lunch on a line in front of you, I am staring at my lunch being built the whole time. There could be a nuclear holocaust going on outside and I wouldn't give a shit. My mind in on the bread selection, and the cheese triangles, and the laying down of the cold cuts, and the spreading of the banana peppers. And if the sandwich artist is stingy with the toppings, I grow extremely concerned. I want that sandwich perfect. Nothing else matters. I am a lion ready to STRIKE.
Also, I think patrons avoid eye contact at any strip club where they also serve food, or any softcore wing chain like Hooters or Tilted Kilt. You're there to watch the game and get a boner. You aren't there to make friends.
Molly:
I'm almost 30... and I still don't feel like an adult. For example: I'm still trying to figure out how to budget better, my savings account is "meh" at best, and I still resist setting up regular/expected medical appointments. Am I just exceptionally bad at being an adult? Or will this all magically click eventually and I won't feel like I'm faking it anymore?
No, that's all normal. Everything you listed up above is a pain the ass, and no sane person, regardless of age, wants to spend 15 minutes on the phone trying to make a fucking dermatologist appointment. WE ARE ALL TRUMP in that regard. You will never be able to fake enjoyment of that particular task, and you will always feel like there are people out there who really have their shit together and you do not.
BUT… Listen, when you get older, you will naturally feel more comfortable and confident doing certain things, even if you don't like them. You will probably get a little bit better at your work, and at raising kids if you have them, and at doing your own taxes. I'm good at doing dishes, even though I fucking hate it. That's life in a nutshell. Also, even when you improve, it won't FEEL that way because, by the time you've stepped up your game, the goalposts have already been moved back. You finally bought a house, but some other fuckface your age already owns a villa in the Maldives. That guy needs to drown in his own piss.
You can go nuts worrying about whether or not your accomplishments match your age, so have a drink and kick back and accept that you will always be just a little bit behind, and that it's not that big of a deal. I still don't know how to fold a shirt properly.
Brendan:
What is the proper way to hold a taco? I grab with my hand over the top of the taco, slightly pinching the sides together, but my wife cradles it from the bottom.
I hoist it like you. How am I supposed to eat it if my hand is underneath it? I'm trying to pantomime the action right now and it seems impossible. You'd have to backhand that shit, or else you'd end up licking your own wrist. Even Hitler would know you can't eat a taco that way.
I like to pinch the sides and lean down real close to the plate in order to avoid any meat spills. Then I turn my head like I'm about to make out with the taco. Then I take a mammoth bite and everything falls apart and I have to reassemble everything using my greasy paws. I'll get the hang of it one day.
Mark:
White chocolate sucks, right? Thank you.
It's not chocolate! That's always a fun fact that everyone knows that you can act like only you know. "WELL ACTUALLY, white chocolate contains no cocoa solids! Isn't that fascinating?!"
Anyway, white chocolate on its own is disgusting, but it is a useful ingredient is certain desserts, like the fabled Williams-Sonoma peppermint bark, or those dark chocolate cookies with white chocolate chips at Panera. Have you had one of those? Holy shit, I wanna be buried with that cookie. It's a quality cookie. White chocolate has to pick its spots.