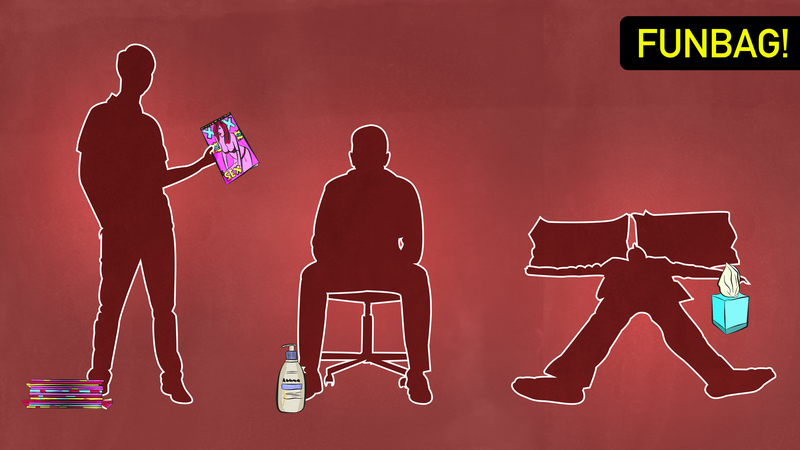 Time for your weekly edition of the Deadspin Funbag. Got something on your mind? Email the Funbag. Today, we're covering dog walking, nightcaps, Forever Farts, and more.
Your letters:
Brozo:
Massive group-text debate going on right now. When it's time to masturbate, are you a Stander or Sitter?
We've vigorously covered this debate from the wiping angle, where it remains both fascinating and utterly baffling to all parties involved. It's a little bit different when it comes to pleasuring yourself, because I imagine the average guy mixes it up based on circumstances. Are you in bed, alone, just waking up or about to go to sleep? Well, then, you're probably taking care of business right there, in supreme comfort. Are you in the bathroom at a family gathering or just lollygagging in the shower? Well, then, you're standing up and getting your shit done in a hurry. Are you surfing the web for ribald content? Well then, you're in a chair, doing AWFUL things to that chair. For real: ever since the advent of the internet, all office chairs are now as suspect as hotel bedspreads. I fear them.

Anyway, with that in mind, here is how I would prioritize the positions available to you, the home onanist:
1. Lying down. Again, very comfortable. It's also easier on your back and leg muscles and whatnot. If you broke it down across all men through history, I think lying down would claim the No. 1 spot for most common position.
2. Standing. Some people aren't very good at this, and that's because they are not professionals. If you live in a crowded house, it behooves you to get your standing technique down so that you are a more versatile, freewheeling pervert. Also, cleanup is a snap. You just go over the toilet (SEXY), and the TP is right there. No need to set out lotions and tissues and scented candles on your nightstand. You can be in and out of there faster than at the Wendy's drive-thru. I am all about efficiency these days.
3. Sitting. Do not do this. Sitting is already murder on your back and neck, and that's without all the jerking and spasming that comes with getting yourself off. Even if you lean back, it's still hard (hehehe) on your body. A whole generation of millennials are gonna grow up with hunched backs and triple scoliosis because they could never pull themselves away from Redtube and adjourn to the boudoir. Besides, if you're a large person, sitting only congests that whole area, what with your gut and your flabby inner thighs choking your poor genitals. Don't do that to your little man. Give him some breathing room. You'll also avoid having to have your upholstery steam cleaned.
Philip:
I'm at a friend's house right now droppin' a turd and realized they have very little toilet paper left on the roll. I've also checked under the sink and they're out. What's my plan here?
Use the little amount you have there and hope for a clean drop back there. If that's not enough, check for tissues and/or those disposal hand towels that look like napkins but are NOT napkins, even though they should be napkins. If you still need paper after that, you have a few choices:
1. Live with swamp-ass until you get home.
2. Wipe with the roll. OH GOD SO AWFUL.
3. Get up, buckle up, walk out, and discreetly go rummaging in any nearby linen closet for extra TP.
4. Text your friend for more.
If it were a really good friend of mine, I think I'd send the text. I don't even care if he gave me shit for it. It would be worth the relief, and he deserves to feel guilty for not setting out more Charmin before I come over for the Super Bowl.
Aaron:
Do teenagers even watch TV today? I have no idea.
I think they do, sure. I think they're just like adults in that they dabble now. You check your phone for a bit, then you watch half a movie, then you check your phone AGAIN, then you play some xBox on the big screen, then you wind down with a little tablet action before bed. You're watching TV, but it's just one of many screens that you toggle between, to busy yourself before dying alone in an unmarked grave.

I spend more time on my computer or phone now than I do watching TV. And that means that I have come to regard watching TV as a kind of serious academic pursuit, like reading a novel. I'm like, "Time to put my phone away and watch a full hour of QUALITY television," as if I'm engaging in some kind of vigorous exercise for my brain, when the reality is that I'm being just as slovenly as I was earlier. Sitting there watching Narcos doesn't RESTORE any of the brain cells lost. I guarantee you my kids will go to college and get assigned to watch The Godfather for a class, and they will treat it like they just got hit with 300 pages of Tolstoy to read in one night.
Trevor:
When I first met my wife, she had really short hair (pretty much a pixie cut). She's grown it out since then, and I think it looks way better now, but recently she's been saying that she'd like to go back to having short hair. I recognize that it's her hair and she can do whatever the hell she wants with it, so I'm a bit unsure as to how I should proceed. Do I let her know my opinion, or do I just shut up and go along with whatever she's saying?
You can tell her you like it long. Lots of moms get their hair cut short because kids will grab it, and because managing your long hair is yet one more goddamn task to do during the day. But you're free to say to her, "I know you wanna get the pixie cut, but you look great with it long, and I just wanted to note that."

And then she'll ignore you and get it cut anyway. That's how it works. Every day, my wife asks me my opinion on something, and then I offer it, and then she blithely rejects it. If I endorse an idea, that is PROOF that the idea is unsound. I don't even blink anymore when my opinions are left on the cutting-room floor. It's back to drinking and fisting the popcorn bowl for me!

B:
My neighborhood, a quiet suburb, has no sidewalks. When I walk my dog, we walk along the edge of the street, and my dog walks on the grass, usually a few feet up on peoples' lawns, like almost everyone else in our neighborhood. The other day, a guy came out his door and shouted at my wife and I to keep our dog off his lawn. I laughed at first, thinking he was joking around. Turned out he was serious, and he was pissed for no reason I can figure out. We are conscientious dog-walkers: we always pick up poops and keep our dog controlled on the leash. I am leaning towards ignoring him, because he was such an asshole about it. Does that make me the dick, or is he the dick?
He's the dick. What are you supposed to do, hit the dog with a cattle prod if it strays from between the lines? If you've got the dog on a leash, and make a reasonable effort to keep it moving along, and you pick up after it when it shits, then fuck that guy. I bet that part of the lawn isn't even his! Like, if it's the space of grass between the sidewalk and the curb, that might be county POPPITY! I would have the dog pee on his newspaper.
By the way, my guess is that your neighbor is ornery because some other, shittier dog-owner violated protocol and let their dog run around on his yard without a leash or something. Once something like that happens, the unspoken pact between dog-lovers and dog-non-lovers is broken, and good dog-owners like you are caught in the shouty aftermath. I have no stats to back this up, but 90 percent of all murders are the result of dog-related misunderstandings.
Sam:
One of the things I can't stand about Notre Dame is how many "RIVALRY GAMES™" they have. They legitimately consider USC, Stanford, Michigan, and Navy all as RIVALS. The same goes for certain teams in the SEC. And in the NFL, not every team in your goddamn division can be your rival! The NFC East is full of that shit. Teams have too many rivals. What is the exact number of rivals a team is allowed to have? I declare you get two, and you will like it.
I'm even more strict. You get one rival. That's it. How can you have a sworn enemy if you have to devote time and resources to hating ANOTHER sworn enemy? That's bullshit. Notre Dame thinks it can get away with having multiple rivals because they think every fucking game they play is a world-stopping event, and that every other team considers it an honor and privilege to take the field against the spiritual fifth-best team in the Big 10. God, I hate them. Notre Dame's only true rival is thunderstorm safety protocol.