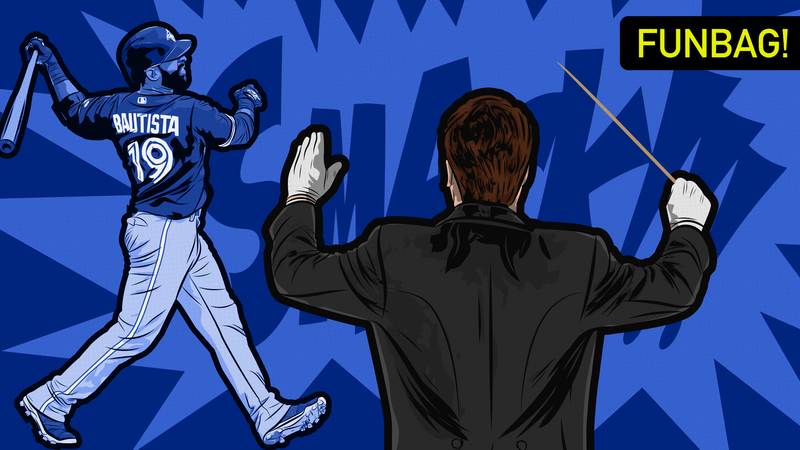 Time for your weekly edition of the Deadspin Funbag. Got something on your mind? Email the Funbag. Today, we're covering grocery store aisles, stealing magazines, sleeping on the floor, and more. 

I was tired and sore the other day so I took a bath for the first time in, like, 20 years. It was a bad idea. There's no way for a man my age to sit down in a bathtub without pulling eight different muscle groups. Once I finally lowered myself down, I didn't fit in it at all. I had to do a kind of body part triage, because there was no way to submerge my entire body unless I wanted to turn sideways and go fetal like I was in some really bad Tool video. When I sat up, my torso was freezing, so I slid down and put my heels up against the wall. I looked like I was about to give birth. If anyone had walked in on me, they would have been scarred for life. A bathtub is just a failed hot tub. Never again.
Your letters:
Eric:
So I'm dating this girl and so far she is pretty much awesome. Everything is going well. Then she told me basketball was too "squeaky." I opened my mouth to retort and realized, yeah. Basketball is squeaky.
Bullshit. Those are the SOUNDS OF THE GAME. They put mics by the floor specifically so you can hear the shoes squeaking and farting. It's like you're really there! I can never get enough of ambient sport sounds, even if they're things that would hugely irritate me in normal life (like my kid bouncing a basketball in the kitchen, which is grounds for filicide). All those squeaks and bounces and thuds get grafted right onto your cortex, so that one day you'll bust out a typewriter and start writing, "I remember… the shoes." Then you will drink some brandy and sniff your own farts and congratulate yourself for your attention to nostalgic detail.
While we're here, let's rank sports sounds, shall we?
Home run smack

Swish

Clean tennis shot

Bowling strike

Pro wrestler landing on the canvas

Figure skater scraping the ice

Horses galloping down the stretch

Football uprights DOINK

Football helmets crashing

Pool balls hitting each other

Race cars going past the TV camera

Catcher catching a pitch

Clean boxing punch

Basketball dribbling

Golf ball getting crushed

Slap shot

Hockey goal horn

Shoes squeaking

Football kickoff

Swimming race beep

Slow death

Ref's whistle

Frankly, I wouldn't complain if they started using Foley artists to incorporate more noises into the game. Someone gets tackled and you hear a SPLAT. That would be fun.

Ben:
How and when do kids today learn about global warming? Are they totally crushed? I remember being sad when my 6th grade teacher explained that the sun would die, and that isn't going to happen for billions of years. Just seems like such a depressing subject that previous generations didn't have to deal with.
They actually start off learning about how to take care of the environment first, before you break the news to them that all our efforts will be in vain, and that our home planet will be a boiling lava pit within the next decade. You teach them not to litter, and to recycle properly, and all that. We usually tell the kids, "Hey, don't do that. That's bad for the Earth," and then they stop trying to feed Starburst wrappers to birds.
None of this is new, by the way. They taught us about global warming back when I was in middle school. We had a whole big assembly and the vice principal told us we needed to read 50 Simple Things You Can Do To Save The Earth. I think I spent a solid week cutting up six-pack rings to save the birds before going back to throwing them out uncut again. It's a hard thing for a kid (or an adult, really) to comprehend that the world is a fragile place when it's so goddamn huge, and so very solid. Stomp the ground right now. That's is some solid fucking ground. Hard to believe it's going anywhere.
But 21st-century kids pick those lessons up pretty quick. Sometimes my kids will spot a plastic bag floating down a creek and they'll do the full Crying Indian Ad face. It's a nice moment to witness when you're a parent, until you get home and realize they've been stuffing trash between the couch cushions because they're too lazy to get up and throw shit away. For them, I still treat global warming as a problem that can be solved. I've told them about rising sea levels and melting ice caps, and I told them that they can help prevent all that by recycling Twinkie boxes. You and I know this isn't true, but it's still worth spinning all this in a positive light to a child, because A) Maybe they'll be inspired to come up with new and important ways to be energy efficient and B) Being mindful of waste is, at this point, just a common courtesy. Even if they could litter, they shouldn't, because that's asshole behavior.
In general, kids are a lot more thoughtful about things like death and the end of the world than adults are. I'm old enough now to know that I NEVER EVER EVER want to think about any of that shit, and I usually have enough alcohol and/or paperwork to keep me busy so that I don't have to. But kids happily luxuriate in death talk. They wanna hear all about it, to the point where I have to be like, "Hey man, you're bringing me down with this," and then I distract them with candy. But now is really the age where you should level with them and tell them the truth about what's going on, because now is when they're most open to it. They're not gonna give a shit about any of that by the time they're old enough to date and score a fake ID. You don't have to be all goth about it, either. You can still spin the news in a positive way, so that they feel compelled to take action instead of sit around in despair.
Jack:
I want a new version of basketball in which points can only be scored by either long 3s or dunks. No one denies this is the best part of basketball, so no more mid-range 2s, teams would only be composed of small shooters and big men duking it out in the paint. I see no problem with my newly created Dunkball.
Yeah, but the midrange 2s are what make those dunks and three-pointers possible. If you took them away, the spacing would be all fucked up and no one would have room to make cool threes or throw down a nasty fucking tomahawk jam on Rudy Gobert's head.
I know I indulge in a LOT of hypothetical rule changes here. But in real life, you're better off not fucking with sports. That new intentional walk rule they just implemented? Stupid. The draft-style Pro Bowl? Stupid. Replay? Fucking unbearable now. In general, you're better off leaving shit alone or making VERY modest changes, instead of panicking and adding some gimmicky shit.