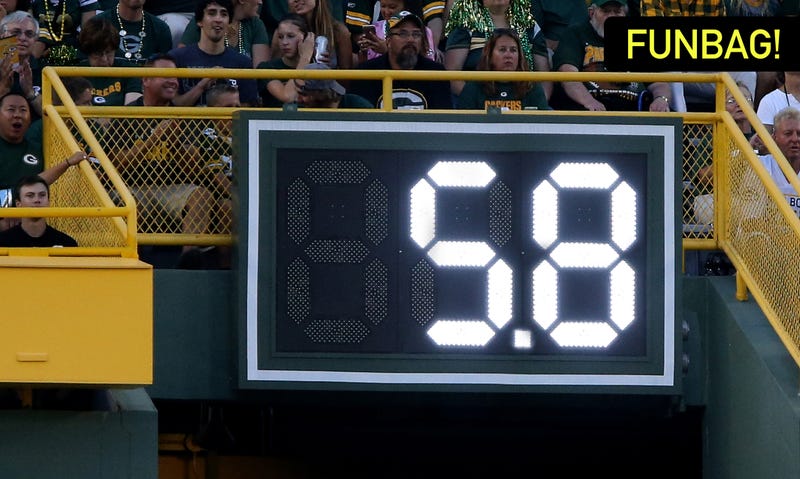 Time for your weekly edition of the Deadspin Funbag. Got something on your mind? Email the Funbag. Today, we're covering poop, bridges, Stonehenge, and more.

Your letters:

Mark:

But why does the NFL in all its majesty not have tenths-of-seconds on game clocks in the final minute? Seems like it'd be pretty important in some instances, and there's really no downside (other than having to install new game clocks?).
The downside would be officials huddling to drill down that tenth of a second on every replay and challenge, which would take forever. That's the worst part of replay: when they've sorted out the call, but then need 15 additional minutes to check the clock and the spot of the ball. By the end of that ordeal, I'm ready to jump off a dam.

That aside, you're right. It's remarkable that the NFL, in all its exactitude, doesn't have tenths of a second on the clock when the NBA does, AND when it could allow for one more dramatic play at the end of a game, should a wideout not named Terrance Williams happen to step out of bounds with half a second to go. That remaining half a second would take 20 minutes in real time to play, but still: SUCH DRAMA.
Basketball is a whole different animal, but the clock in basketball has helped create any number of kick-ass endings. In fact, football would stand to benefit MORE than basketball on final plays from its implementation. Once the ball is snapped with 0.2 seconds left, the clock becomes immaterial. The QB doesn't have to get a pass off before the double zeroes hit. I know the NFL would find a way to fuck this all up, but in theory, it could be cool.
Clinton:
How soon until a computer is coaching in the NFL? We already have Watson and Big Blue kicking major ass against Gary Kasparov and Ken Jennings, Google has a computer beating people at GO, a supposedly very complex game nobody has ever heard of. It stands to reason that with all that computing power, and the proliferation of statistics so specific you can pretty much determine how many interceptions Blake Bortles will throw after having Chipotle on a Thursday, that the NFL would be introducing computer coaches well before female ones.
Never. No GM is gonna entrust his fate to the GridBox2000. What if GridBox2000 decides to go for it from inside its own 35-yard-line, because it's the "right" move, and then it fails? I'll tell you what would happen: that thing would get trashed faster than HitchBot.