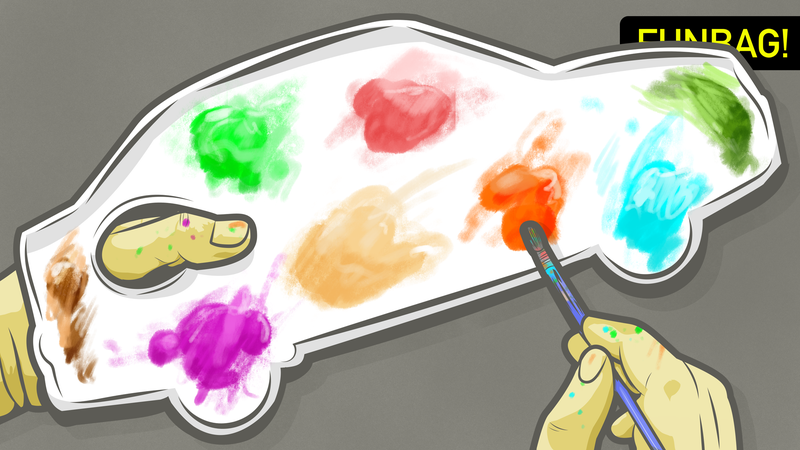 Time for your weekly edition of the Deadspin Funbag. Got something on your mind? Email the Funbag. Today, we're talking movie siblings, rice pilaf, industrial poop accidents, and more. 
Former Deadspinner and biannual blogger Kyle Wagner told me yesterday that he got a three-piece from Popeyes and there was no thigh in the box. Can you imagine that? I'd fucking die if my Popeyes order didn't have a thigh in it. That knob of skin fat that's just hanging off? That's the best part of my year. I want to be buried in Popeyes chicken thighs. Don't ever let them stick you with three dry breasts or any other kind of disrespectful combo. Wagner got played like a goddamn sucker.
Your letters:
Carson:
What is the worst color for a car? And how in the hell do people end up with a light green Nissan Cube (or insert bad car/color combo) anyway? Whenever I see a car with some ridiculous color I try and put myself in their shoes but I just can't figure it out.
For this exercise, I'm gonna stick to basic colors and not delve into the sordid and confusing world of official car colors, like Ocean Pearl, Red Chili, Forest Moon, Tangerine Bath, Tongue, Amethyst Fart, Vanilla Girthstone, Granite Night Terror, and Blue Methane. You can get lost for days in that tangle of glossy and sparkly finishes. Here's how I'd rank the worst of them:
Bright green. What are you, the Green Goblin? I'm all for a hunter green sports coupe with a tan leather interior. That's pure SEX, my friends. But once you dial that green up to sour apple, that shit looks like a clown car.

Purple. I'm a Vikings fan and even I would kick a purple car right out of the driveway. The best reason to pick a bright color for your car is if A) You bought your fourth impossibly fancy Italian sports car and already have it in red, yellow, and black, or B) You're buying a Geo Metro or some other cheap piece of shit, so you may as well spring for the purple one and then refer to it as "The Hot Rod" for laughs.

Tan/Beige. My folks owned a beige Volvo, which is the most '80s car possible. Tan cars have not aged well. A tan car may as well be unpainted. "Why yes, I would like the Dead Sea Camouflage for my van."

I should disclose here that I own two cars: one bright red, and one bright white. I did not expect to own a white car, but that's what the dealer had, and hanging out at a car dealer makes me wanna die, so I bought the white minivan and got the fuck out of there. That's how people end up driving cars that are purple and green and other weird colors. They don't WANT a purple car, but it's there on the lot and the price is right, and so they compromise and drive home in a fucking eggplant. I'm still amazed that car manufacturers can sustain a business by pre-fabricating green cars and hoping someone is desperate enough to buy one.
Jeremy:
Do you think we will ever see another player/coach in our lifetime? If so, what sport will that most likely be?
We won't see another player-coach in our lifetimes because no team wants to deal with the publicity involved, even when it's the right thing to do. Even if a team has a de facto player-coach (Peyton, LeBron, Kobe, etc), they'll still deploy a figurehead whose job is to sit at the presser, and book flights, and scout college players, and do all the other petty bullshit that no sane player wants to do.
This is a shame because we SHOULD have more player-coaches. Not only do I enjoy the novelty of some asshole like Pete Rose pulling double duty, but it would help get rid of the whole "coaches coach, players play" mentality that's still permeating the sports landscape. Coaches are all insane assholes who devote inhumane amounts of time to tape study and game planning, and they often get lionized for it. That part of profession—with all its competitive insomnia—is basically treated as a necessary evil. This is especially true when it comes to football, which has become overly complicated by coaches to the point of absurdity.
But what if that's not as necessary as it's made out to be? I would love to see a player come along and take over formal coaching duties and blow up the model. This would easy to pull off in basketball, where the head coach is usually a former player who delegates strategy to a bunch of lackeys anyway. And I'd love to see a college basketball team elect to be self-coached, with players sorting out and implementing strategies on the fly and learning to play together on their own, instead of having some fuckball in a suit yell at them for 40 minutes. Surely some dipshit school like Northwestern could adopt that policy and sell it as HACKING the basketball paradigm.