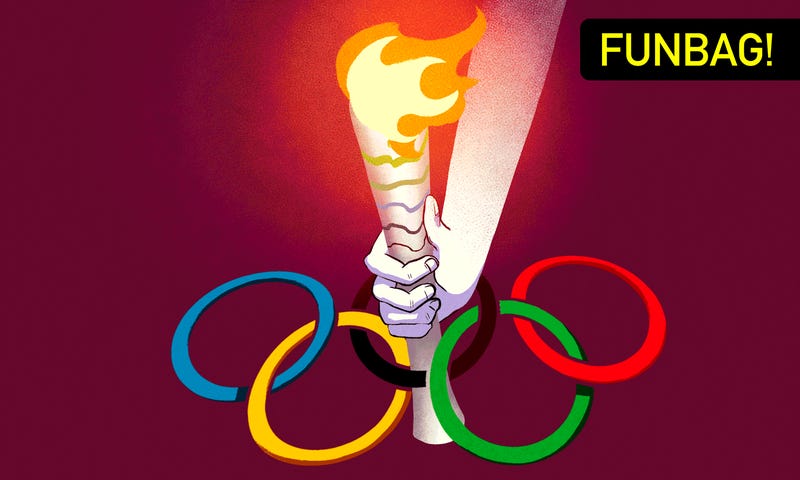 Time for your weekly edition of the Deadspin Funbag. Got something on your mind? Email the Funbag. Today, we're covering jerk athletes, Usain Bolt, Trump, and more.

Greetings from the Upper Peninsula of Michigan! I can't believe Wisconsin gave away this parcel of land to Michigan for free back in the day. Pretty weak, imho. Those gravy-bathing cheesehumpers let a copper-rich peninsula fall into the hands of a state that isn't even connected to it. If I were Michigan, I'd take over Madison as well. Just raid Wisconsin for all its worth.
Also, The Hike is now out in stores. Apparently my dad was in a bookstore last week and moved all the copies of it from the Fantasy section over to the Read Now counter. So please, buy the stupid thing so that my parents get don't arrested at some point for vandalizing a fucking Barnes and Noble. Your purchase is necessary if I want to secure a spot on the bestseller list and live in a house made of nothing but gold and 100% fresh tuna belly. I pray you understand.
Your letters:
Chris:
In a recent conversation with co-workers, we were discussing the reported 450,000 condoms that were distributed at the Olympics. It got us talking about what countries hook up the most amongst each other? Certainly variables like size and number of athletes come into play, but there's got to be a few countries that top the list. Also got to imagine that some countries rank low on the Olympic sex medal count? I can't see North Korea involved in many Olympic orgies.
You'd have to control for team size here because the USA sent the largest coterie of athletes by far (over 500), and our basketball team alone has probably fucked half the free world. We can overwhelm the horniness analytics with sheer numbers even though we are, at times, one of the more oddly prudish countries in the developed world. So let's see if there are any other countries that could beat us on a per-capita basis. Here are some of the obvious choices:
1. Brazil. Brazil had the second largest Olympic team, AND they got to play host this year. If I were an athlete from the host country, I would offer my services to every other attractive female athlete in the Village. "Come. Let me show you my country. We are a kind and loving people. WHOA HEY LOOGIT THAT WE'RE IN MY BEDROOM HOW'D THAT HAPPEN?"
I guarantee you that Ryan Lochte hit on every single Brazilian athlete because he assumed that Brazilians are the horniest people in the world, and then he got crazy drunk and started pissing on gas stations when all the Brazilians turned him down.
2. Tonga. That oily guy. I bet he got laid a ton.