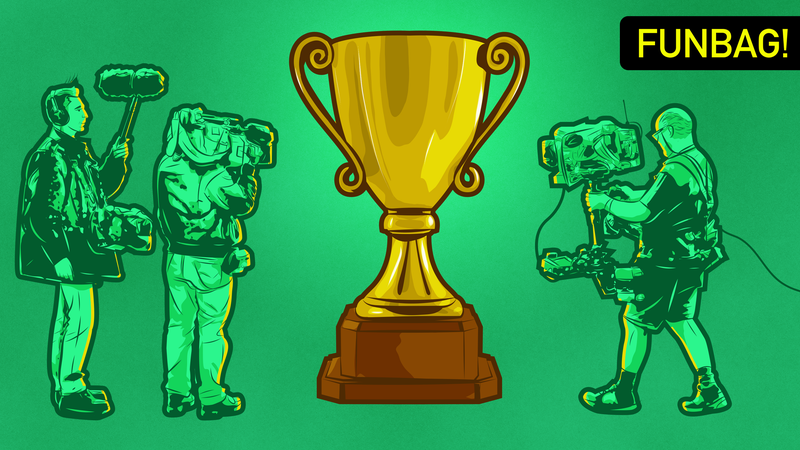 Time for your weekly edition of the Deadspin Funbag. Got something on your mind? Email the Funbag. Today, we're covering cannibalism, hobbies, toilet paper expenses, and more.

Your letters:
Yusuke:
Which reality shows are worth winning? Specifically, which ones do you gain the most from winning versus the ones where you just try to stay on long enough to get exposure? American Idol seems okay as long as you're doing country music. Seems like you're better off losing halfway so you're not locked into a shitty recording contract though. Winning Top Chef seems to be an actual honor. You definitely don't want to win Bachelor/Bachelorette because the marriages don't last and being a fan favorite loser gets you your own season. I don't know any America's Next Top Model winner and I don't know why they even bother with the Next Food Network Star. How do you rank them?
Top Chef is the best one to win. Even if you're one of the forgettable champions of that show, you still get a six-figure cash prize with no strings attached (apart from signing a contract allowing producers to portray you as Satan Incarnate if they don't have a lot of good footage to work with), AND that's a legit thing to have on a resume. In fact, just going ON Top Chef is probably a bigger career boost for people than winning other reality competitions. If you go on Top Chef and then open a restaurant, it gets a shitload of local media attention, and Top Chef is usually the first thing that gets mentioned in your credentials.
And it works! As a customer, I'm completely gullible when it comes to the Top Chef effect. I went to a place that was run by a contestant once and I was like, "Oooooh, this guy was on Top Chef! FANCY!" I felt like I was finally getting to eat some of the shit that I usually have to watch other, cooler people eat on TV. They could put a little "TC" icon by restaurants listed on Yelp and they'd probably have their bookings go up 10 percent. Anyway, here's how I would rank them, from Best To Win to Worst To Win:
Top Chef.

The Amazing Race. You get to travel all over the world AND you win a million bucks.

Survivor. Again, you win a million bucks, although you have to suffer through a lot more horseshit to get it. I know that's fun for bragging rights, and pretending you're a tough guy, but imagine being trapped on an island with a bunch of fame whores for 40 days and NOT winning the money. I'd kill myself.

Project Runway. This doesn't have the cache it used to, but I think it's always best to win a reality show that is also a somewhat respected skills competition. People watch The Bachelor to gawk at all the morons and laugh at them. You're not getting out of that show with your dignity intact.

Chopped. Take it from me! It's nice to win a reality show that takes only a day to film. By the way, I'd have the original Iron Chef at the top of this list if it were still on, because nobody ever fucking won it. Morimoto could have served his own vomit and still beaten any challenger.

The Voice. Since Idol is now canceled, this is probably the best singing competition to win, even though, as Yusuke noted above, the contract you have to sign with Universal upon winning is probably some real TLC-level robbery. Also, there's not much professional credibility to appearing on this show because A) The judges and viewers don't always have great taste, B) There are no original songs played because that would be horrible, and C) People at home can tell within five seconds if they like you or not. They don't have to go to your restaurant to figure out that you're a fucking fraud.

Judge Judy. A small cash settlement AND legal dominion over my former best friend? SCORE.

The Ultimate Fighter. Congrats! Dana White now owns you and will make you fight like a dog.

Shark Tank. Oh hey, Mark Cuban likes your business idea! It's doomed. You're gonna take your seed money and then foolishly sink the rest of your savings into it and then go belly up by the end of the year. And then Mark will complain if you tweet about him.

Hell's Kitchen. No one gives a crap.

Celebrity Apprentice. You're already a fucking joke if you're on this.

Strangled with your own tie

The Bachelor.